Teach Your Class to Draw.
Teaching pupils at Year 4.
Teaching pupils at Year 4how to draw is really important because it is at this age that pupils begin to want to draw realistically. Before this stage in their development they use the Symbol System to draw, which is using symbols from memory to represent people, places and things. A circle represents a face, a square with a triangle represents a house etc. By the time children get to Year 4 they know that a simple circle with two dots in it is not a face. They instruction and rules to follow to be able to draw more accurately and achieve the realism that is really desirable at this age.
Lesson Content.
These paintings are from Year 4 pupils who have followed the 12 week, 'Teach Your Class to Draw' book and videos. These images are from Lesson 9 Great Artists and were done in one lesson. The pupils have learned how to use watercolours techniques in Lesson 8 and were given 20 minutes to use the techniques painting well-known images. They then walked around the room (we call this Table Gallery) and gave each other feedback. By this time the paintings had dried and they used colour pencils and pen to finish off their masterpiece.
Moving forward.
Now the pupils have finished learning all the basics I will be able to bring in objects such as fruit and vegetables for them to draw and paint. They can now use their new skills in other subjects where they have illustrate work or draw diagrams.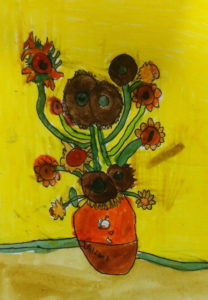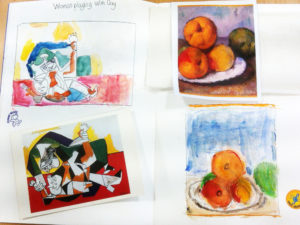 I would advise any primary school teacher who may be a bit nervous of teaching drawing, to try this book and know that you will not do any harm but will be giving pupils an opportunity to develop drawing skills and at the same time it may even help you to grow in confidence.